By APCO's Government Relations Office
During the prior session of Congress, APCO made substantial progress on its legislative goals, including coming closer than ever to securing significant federal funding for Next Generation 9‑1‑1. With the start of a new Congress, legislation APCO had been championing will need to be reintroduced, and we'll seek to build upon the momentum to get these bills passed into law. This blog describes APCO's legislative priorities, APCO's efforts, and next steps. Downloadable one‑pagers with talking points that can be used when speaking to members of Congress about these issues are also included. Having accurate talking points to speak from – or leave with the congressional staffers you meet with – can ensure that you use your meeting time efficiently and are prepared to answer key questions about the issues.
Download talking points on NG9-1-1 funding legislation.
Download talking points on the 9-1-1 SAVES Act.
Download talking points on the PROTECT 9-1-1 Act.
Please feel free to contact our team ([email protected]) if you have questions. If you are able to secure a meeting with any members of Congress or their staffers, we are happy to assist with additional prep (such as more detailed talking points) and meeting follow-ups as well.
Funding for Next Generation 9-1-1
What's the issue?
The nation's 9-1-1 networks are in dire need of modernization. 9-1-1 is reliable and widely available but is based on 50+ year-old technology and mostly limited to voice calls and some texting capabilities. We need to deploy Next Generation 9-1-1 throughout the country, in a comprehensive, secure, innovative, cost-effective, and interoperable manner. This would enable 9-1-1 centers to receive and process voice, text, and multimedia content and share it with other 9‑1‑1 centers or with first responders in the field. While some states and jurisdictions are making partial progress towards NG9-1-1, no part of the country can be described as having achieved this end-to-end vision of NG9-1-1 for emergency communications centers (ECCs).
APCO's Efforts
The Public Safety Next Generation 9-1-1 Coalition, which includes APCO and the nation's leading law enforcement, fire/rescue, and emergency medical service associations, developed legislation to establish a significant one-time federal grant program to achieve NG9-1-1 nationwide. The Coalition agreed to key public safety principles and built upon earlier bills to develop legislative language that would:
Provide significant federal funding (targeting $15 billion).
Create efficiencies and leverage the opportunities afforded by the innovation and competition of the commercial marketplace.
Establish modern, comprehensive definitions for key terms like NG9-1-1 and interoperability.
Support training for public safety telecommunicators (PSTs).
Support increased cybersecurity measures.
Ensure seamless interoperability between ECCs and with first responders in the field.
Ensure resiliency and avoid single points of failure.
This language received bipartisan support in the House of Representatives and the Senate and has been included in several legislative packages. Last year, the language was included as part of the Spectrum Innovation Act, a bill that would have directed the revenue from spectrum auctions managed by the Federal Communications Commission (FCC) to fund NG9-1-1 implementation. Unfortunately, the bill did not pass due to reasons unrelated to the NG9-1-1 provisions.
Next Steps
This year, APCO is focused on achieving enactment of the Coalition's carefully crafted NG9-1-1 legislation, and providing NTIA (the agency responsible for implementing the grant program) with borrowing authority to allow the grant program to be implemented as soon as possible. APCO would support passage of the bill through reintroduction of the Spectrum Innovation Act or as part of any legislative vehicle. We are focusing our advocacy on key House and Senate offices to sustain and grow support for the bill language.
Download these talking points on NG9-1-1 funding legislation.
Reclassification of Public Safety Telecommunicators
What's the issue?
The federal government's catalogue of occupations, the Standard Occupational Classification (SOC), categorizes PSTs as an administrative/clerical occupation, but there is a much more appropriate "protective service" category. The SOC is supposed to group occupations by the nature of the work performed. 9-1-1 professionals save and protect lives every day. Therefore, instead of being classified as clerical personnel, they should be with the "Protective Service Occupations" – a broad group that includes several occupations that perform work that is less protective than PSTs'. While not having any direct impact on salaries, benefits, or state-level job classifications, fixing the federal classification is a common-sense, zero-cost change that would recognize the life-saving work performed by PSTs.
APCO's Efforts
The Office of Management and Budget (OMB) controls the SOC and has the authority to classify PSTs as a protective service occupation. This would come at no cost, promote good government by ensuring that the SOC is accurate, and align the SOC with other federal data efforts, including congressionally-mandated suicide tracking programs that group PSTs with other public safety professionals. Simply put, classification within the Office and Administrative Support group is inappropriate given the stress, training, and lifesaving nature of the work performed by PSTs. APCO has explained this in formal comments to OMB, and even provided rebuttals to several of OMB's justifications for not correcting the classifications, but so far OMB has been intent on maintaining the status quo.
As an alternative to OMB voluntarily changing the classification, legislation could direct OMB to fix the SOC. The 9-1-1 SAVES Act (in the last session of Congress, bill numbers HR 2351/S 1175) would do just that. APCO worked closely with congressional staff in the House and Senate to introduce the 9-1-1 SAVES Act in 2019 and again in 2021. During both of those prior sessions of Congress, the bills received bipartisan support and the language from the 9-1-1 SAVES Act was included in a larger piece of legislation, the National Defense Authorization Act (NDAA). Unfortunately, each time the House and Senate ultimately moved forward with a version of the NDAA that did not include the reclassification provision.
Next Steps
In the new session of Congress, APCO will work to get the 9-1-1 SAVES Act reintroduced quickly and vigorously pursue passage. Simultaneously, APCO will continue to push OMB to correct the classification on its own.
Download talking points on the 9-1-1 SAVES Act.
Health and Wellness Resources for ECCs
What's the issue?
Health and wellness are huge challenges in 9-1-1. A recent report identified PSTs as one of the top ten most stressful occupations, and research has shown that the stress of working in emergency communications dramatically increases rates of suicidal thinking. Based on one study, approximately one in seven 9-1-1 professionals reported having suicidal thoughts. That's comparable to rates for fire/rescue personnel and more than four times the rate in the general population.
Dealing with this serious challenge to the 9-1-1 community will require significant efforts, including raising awareness, creating guidance for mental health professionals, and supporting resources like peer support programs.
APCO's Efforts
APCO supports health and wellness in numerous ways, particularly through the work of its Health and Wellness Committee. On the legislative front, APCO worked closely with Congresswoman Robin Kelly's (IL) office to develop legislation that would provide support for 9‑1‑1 professionals. The bipartisan PROTECT 9-1-1 Act (in the last session of Congress, bill number HR 4319) includes several measures to advance health and wellness for 9‑1‑1 professionals, including:
Developing best practices to identify, prevent, and treat posttraumatic stress disorder in PSTs;
Developing resources to help mental health professionals better treat these personnel; and
Establishing grants for health and wellness programs in ECCs.
Next Steps
Last Congress, the PROTECT 9-1-1 Act received bipartisan support in the House. APCO is working to get the bill reintroduced and seeking additional sponsors to grow support and get this legislation passed.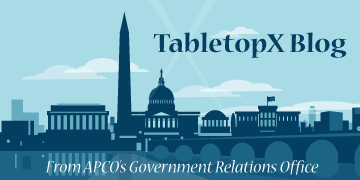 About the TabletopX Blog
A "Tabletop Exercise," often shortened as "TTX," is a discussion-based exercise frequently used by emergency planners. Led by a facilitator using a planned scenario, TTX participants describe the actions they would take, and the processes and procedures they would follow. The facilitator notes the players' contributions and ensures that exercise objectives are met. Following the exercise, the facilitator typically develops an after-action report and conducts a debrief discussion during which players and observers have an opportunity to share their thoughts, observations, and recommendations from the exercise without assigning fault or blame.
Many of the attributes of a TTX are the same we seek to promote in the discussion generated from our blog posts. The goal is to capitalize on the shared experiences and expertise of all the participants to identify best practices, as well as areas for improvement, and thus achieve as successful a response to an emergency as possible.
TabletopX blog posts are written by APCO's Government Relations team and special guests.