Let AFC's Licensing Professionals Manage Your Licenses
Your FCC-issued Call Sign is your official license to operate a land mobile radio system. An FCC license is a dynamic instrument that includes periodic time-sensitive evolution in order to maintain its good standing and your authority to continue operations on your radio system. AFC's License Management Services provides peace of mind by reviewing your call sign to ensure its current good standing basis and ensuring future FCC changes and time-sensitive requirements are adhered to and supported.
We can manage your Part 90 Public Safety licenses to save you time and aggravation with professional expertise. We can:
Track your licenses to make sure they are renewed on time and that all required notifications are submitted promptly
Prepare license applications for modifications or new stations
Submit Special Temporary Authorities
Submit required construction/coverage notices, administrative updates, FAA applications, Antenna Structure Registrations, Taxpayer Identification Number registrations, and other miscellaneous services.
Our staff is experienced in application preparation and processing, FCC Universal Licensing policies and procedures, FCC licensing, knowledge of FCC Rules and Regulations, and the coordination process.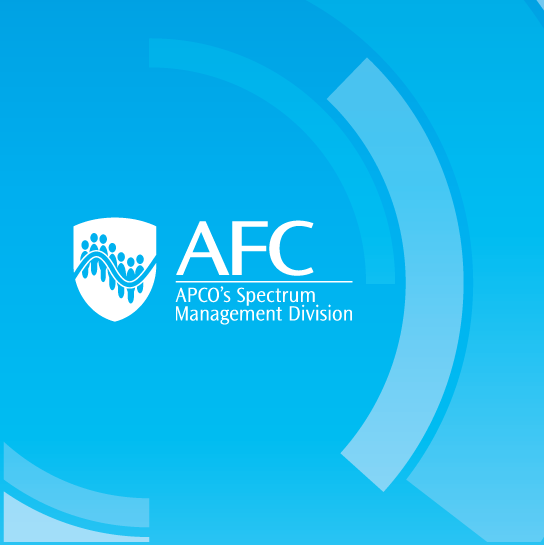 License Management Services & Fees
The fees charged by the APCO Licensing Service for license management do not include the coordination fees charged by frequency coordinators or FCC filing fees.
Preliminary Call Sign Research
Identifying of the call sign(s) that are licensed to a customer based on specific licensee information submitted by the customer (i.e. known names by which the licensee may be referred to on an FCC call sign license and/or one or more FRN/FCC Registration Numbers).
| | |
| --- | --- |
| Licensee names and/or FRNs provided by client | One time fee per agency |
| Per primary agency | $300 |
Initial Call Sign Review
Screening and reviewing in detail of call sign(s) to identify potential errors and omissions.
Does not address any technical or operational interference issues which may affect an incumbent license or any other licensee.
| | |
| --- | --- |
| Number of Call Signs provided by client | One time fee per Call Sign |
| 1 to 5 | $100 |
| 6 to 10 | $90 |
| 11 to 20 | $80 |
| 21 up | $70 |
Ongoing Call Sign Monitoring
Ongoing monitoring of specific customer's call sign(s) for any changes in the FCC ULS database which may require or cause action on behalf of the licensee, such as FCC notification requirements, termination notices, construction requirements etc.
Includes annual contact / administrative information verification and maintaining licenses in a database.
| | |
| --- | --- |
| Number of Call Signs provided by client | Annual fee per Call Sign |
| 1 to 5 | $100 |
| 6 to 10 | $90 |
| 11 to 20 | $80 |
| 21 up | $70 |
The Call Sign Review and Annual License Management may discover problems with the Call Sign license. Modifications to the Call Sign may require license submission to the FCC to correct deficiencies. Any required modifications or notifications will require additional services and fees based upon APCO's current published fee schedules.
A 10% discount will apply to AFC Licensing Service Fees and/or AFC Engineering Fees with a signed Agreement for License Management with APCO Licensing Services.