About Frequency Coordination
AFC is a Federal Communications Commission certified public safety coordinator, and, as a division of APCO, AFC's revenue is invested back into the public safety communications community.
The Federal Communications Commission (FCC) has certified specific associations to perform the coordination process used to choose appropriate frequencies for land mobile radio systems before they, the FCC, will accept applications for licensees to operate two-way radio systems. This is essential to ensure the numerous systems across the country have clear and interference-free operation on their critical radio systems.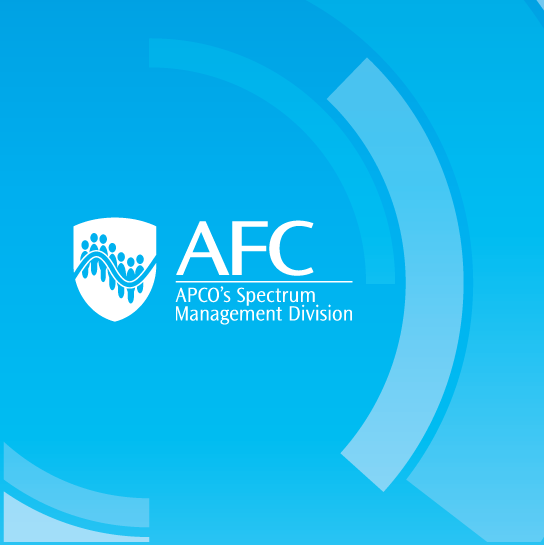 How Does It Work?
APCO receives applications directly from agencies or, in some cases, from third party service providers such as professional license preparation firms or local two-way radio shops. APCO reviews the applications for completeness, enters the application into a database and submits the application to a technical review. The technical review is typically performed by one of APCO's 50+ volunteer Local Advisors.
The Local Advisors run applications through a complex search in APCO's extensive database to determine the compatibility of frequencies included on the application with those in the geographic vicinity of the applicant. Agencies can also leave the frequency choice up to APCO and we will research the most appropriate frequency available.
Many frequencies are coordinated on a shared basis with other frequency coordinators and certain frequencies are affected by frequencies coordinated by other certified coordinators. In those cases, concurrence of the choice is obtained from the appropriate coordinator. In certain instances, concurrence is required from other licensees in the vicinity depending on frequency and distance separation.
Next, APCO converts the application into an electronic form acceptable by the FCC and transmits the application directly to the FCC. The FCC no longer accepts applications through any other means.
APCO uses a high degree of automation to move and process applications, yet the most important part of APCO's process includes its dedicated full-time professional staff working in conjunction with the volunteer Local Advisor network.
The FCC uses a radio license application multi-page form referred to as "Form 601". The technical information, agency registration, tower registration and general system complexity all contribute to a complex process. Each application is affected by many different FCC rules. The average application will require approximately a month to ensure it is complete, accurate and the frequencies assigned will provide a minimum of interference.
If you are puzzled by the basic 601 Form, APCO can assist through APCO's Licensing Service.
Why Use APCO AFC?
APCO is certified by the Federal Communications Commission to coordinate public safety license applications in the Part 90 Private Land Mobile Radio Services.
AFC provides spectrum and licensing services for public safety related to licensing of public safety frequencies.
Since AFC is a division of APCO, AFC's revenue is invested back into the public safety communications community.
AFC employs a staff of 15 dedicated full-time professionals and over 50 regional volunteer professionals to process radio station licenses. This network of Local Frequency Advisors throughout the United States perform the coordination process on a regional basis. There is no substitute for Local Advisors knowledgeable in the RF field and familiar with local politics, terrain and Regional Plans.
APCO has a commitment to monitor and address matters that affect public safety spectrum.  APCO actively and routinely participates in regulatory issues to ensure public safety is assured of its ability to access, acquire, maintain, and plan for the best utilization of radio system operations.
Frequency Coordination Services & Fees
The fees charged for frequency coordination support both the actual process of coordination as well as APCO's continued support of all public safety spectrum issues. Additional fees not listed on our fee pages may be required depending on the particulars of the services requested or changes in coordination requirements.
New Stations / Major Modifications
30 MHz – 174 MHz ***
$210* Per Frequency/site combination
450 MHz -470 MHz ***
$210* Per Frequency pair/site combination
T-band 470 – 512 MHz
800 MHz General Category channels
(non NPSPAC 854-862 MHz) **
$310* Per Frequency pair/site combination
800 MHz NPSPAC (851-854 MHz) channels
700 MHz (769-775 MHz) Narrowband channels
$60* Per Frequency pair/site combination. $150 minimum per application.
FXO/FX3 Station Classes
$210* Per Frequency for the first site plus $20 for any reuse of that same frequency at each additional site.
* Per frequency or pair of frequencies (as described by the FCC) per site.
**Some 800 MHz channels also require Vacated Spectrum, DHAAT or Interstitials analysis or contours.  These services are included at no additional charge.
***VHF TDMA and FB8/MO8 systems in VHF and UHF are subject to engineering and additional fees. Please contact AFC for a fee quote at 888-APCO-911 (888-272-6911) or email [email protected].
If an application is not submitted through SpectrumWatch (or CAPRAD for 700/800 MHz NPSPAC channels), a $200 data entry fee will apply in addition to applicable licensing, coordination, or engineering fees.
Minor Modifications
No major technical modifications or changes increasing coverage area.

Minor Modifications are defined as changes affecting existing licenses requiring administrative information, reducing technical parameters, changing/adding emission designators only (except for 854-862 MHz or TDMA-type systems, for example, 7K60FXE or 7K60FXD), increasing mobile units or control station units (with antennas under 6.1 meters) only, deleting frequencies and/or sites.

$150 minimum fee per application

(Minor modifications are included at no additional charge when submitted as New Station/Major Modifications per fee schedule above.)

Coordination of the five National Plan 800 MHz "ICALL" channels, the 700 MHz Interoperability (I/O) channels, the 90.25 federal interoperability channels and certain other recognized I/O channels (See Interoperability Channels )
NO CHARGE when combined with other chargeable items. $150 minimum fee per application if no other chargeable items.
System licensing with NO other changes
$210 per application
Adding 6.1 meter control stations for VHF and UHF below 470 MHz with same or lesser parameters as corresponding base/mobile.  Must be currently licensed for corresponding channels on base/mobile. For control stations greater than 6.1 meters, refer to our New Stations/Major Modifications fee schedule.
NO CHARGE when combined with other chargeable items. $150 minimum fee per application if no other chargeable items.
Contemplating a large system?
If you are anticipating a large project requiring a competitive bid, be sure to contact AFC. We specialize in high-performance processing for bulk applications and will provide responsive bids with significant discounts to the above-published fees.
Refund Policy
The fees charged by APCO are for the coordination service APCO provides and do not guarantee the acquisition of frequencies. Fees are earned when applications have progressed to the coordination stage and are due according to our invoice terms and are not refundable.
Engineering Services
If you are uncertain if frequencies are available, it is advisable to have an engineering study done prior to coordination in order to verify the availability of frequencies prior to submitting an application for coordination. APCO has an engineering staff that is ready to help. Check out the services available in Engineering Services.
Legal Assistance
Some applications require waivers to FCC Rules and Regulations. Occasionally the services of a legal firm specializing in telecommunications law practice is advised. If you should require such services, contact AFC. AFC may be able to steer you to an appropriate firm to provide assistance in this area.
Method of Payment
A check, purchase order/voucher or a letter of intent must accompany the application package to ensure processing of applications.  Applications will not be submitted to the FCC until payment has been confirmed. Make check or money order payable to AFC. APCO accepts Discover, American Express, Master Card and VISA. If paying by credit card, please contact AFC at (386) 322-2500.
Fees subject to change without notice.