Nominate a Hero in Your Life
APCO International presents awards to public safety communications personnel who have demonstrated the highest levels of personal and professional conduct and performance in the line of duty.
Nominations are closed!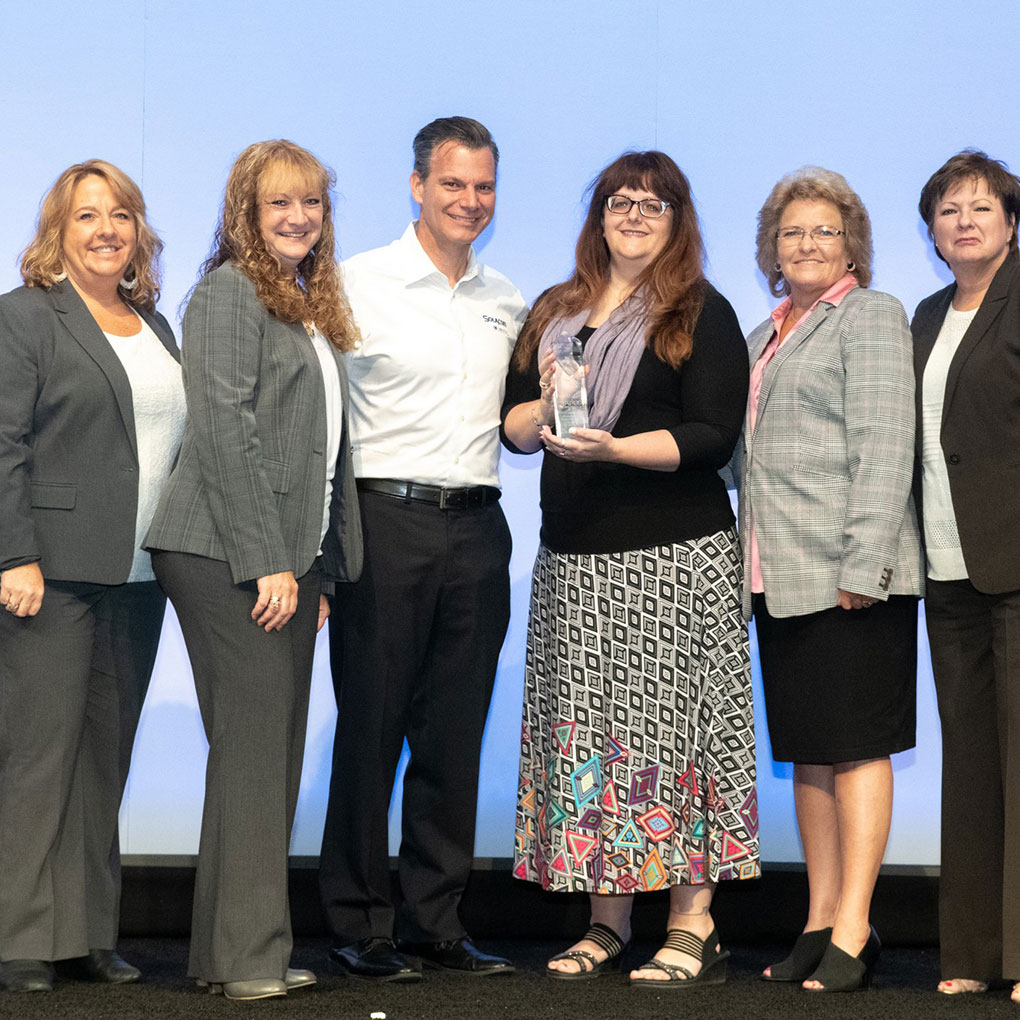 Who's eligible?
Nominees must have been employed in the applicable category by a public safety agency at any time between April 1, 2022 and March 31, 2023. They must work or reside within the boundaries of the United States of America and its Territories or within the charter area of an International Chapter of APCO-International. Nominees do not have to be members of APCO.
What do the award winners receive?
ECC Award recipients will enjoy our VIP treatment, which starts with a fully paid trip to APCO 2023, APCO's Annual Conference & Expo, including registration, travel expenses and hotel accommodations. APCO's 2023 conference will be held in Nashville, Tennessee August 6-9, 2023. During the conference, the recipients will be brought on stage to receive their awards in front of thousands. They will also be featured in a press release announcing the winners and in an article in APCO's PSC magazine.
Technology Leadership Award recipients will receive a complimentary day-pass registration to APCO 2023 for the day of the award ceremony. A representative from the winning ECC(s) will be recognized at the annual conference, in PSC magazine and on the web site.
When are the award winners announced?
APCO's Awards Committee submits their final selections to the Board of Directors in early May. Once approved, award recipients are notified of their selection in mid-May.
ECC Award Categories
Telecommunicator of the Year
Sample Job Titles  (Not all-inclusive)

Call Taker, Dispatcher, Emergency Communications Operator, Public Safety Dispatcher, Telecommunicator, etc.
Sample Responsibilities for Telecommunicator of the Year Candidates
Functions as a frontline dispatcher or call taker for police, fire, and/or EMS agencies.
Operates telecommunications equipment to receive emergency and non-emergency phone calls.
Operates radio equipment to dispatch, monitor and communicate wtih first responders
Ability to prioritize multiple calls for dispatch to determine type and level of response necessary.
Ability to work through periods of high call volumes and priority incidents without sacrifice to decisions and quality of work.
Ability to obtain, prioritize and relay information from a caller to a dispatcher via CAD or manual systems
Consistently thinks clearly and responds quickly to a wide variety of emergency situations.
Calms, negotiates, advises and otherwise communicates with callers to obtain accurate and essential information necessary to establish priority and initiate a timely response to emergency calls.
Operates all required computer and telephone system with essential peripherals and program applications efficiently.
Assists other employees as necessary when not occupied with primary call answering/dispatch responsibilities.
Maintains appropriate security and confidentiality of information created, encountered or requested (i.e. cellular traces) in the performance of assigned duties.
Coordinates with outside agencies to gather information, make referrals, or dispatch assistance (mutual aid).
Works in a coordinated team manner; functions in a collaborative manner with co-workers to ensure a successful outcome.
Communications Center Director of the Year
Sample Job Titles  (Not all-inclusive)

Director, Assistant Director, Executive Director, Deputy Director, PSAP Manager, Communications Center Director/or Manager, Communications Administrator, Communications Chief, Public Safety Manager/or Director, etc.
Sample Responsibilities for Telecommunicator of the Year Candidates
Maintains appropriate contacts with the public, users and the media on the proper use of the emergency communications system.
Responsible for planning and directing the daily operations of the Communications Center.
Responsible for developing and monitoring the policies and procedures of the Communications Center.
Serves on advisory boards and other professional organizations and fosters the professionalism of the agency.
Maintains active liaisons with all participants, customers, emergency service providers and other departments and local, state and federal agencies relative to the operations of the Communications Center.
Prepares and submits an annual plan, including budget preparation and administration, program goals and Capital Improvement Plan.
Employs, schedules, counsels, disciplines, and evaluates the performance of Communications Center staff.
Performs a variety of functions as directed that could include accounts payable and employee payroll.
Line Supervisor of the Year
Sample Job Titles  (Not all-inclusive)

Dispatch Line Supervisor, Dispatch Supervisor, Dispatch Operations Shift Supervisor, Supervising Public Safety Dispatcher, Supervisor, Shift Manager/Supervisor, Communications Supervisor, Communications Shift Supervisor, Communications Center Supervisor, Line Supervisor, Operations Supervisor, Emergency Resource Supervisor, Telecommunications Supervisor, Senior Fire Communications Supervisor
Sample Responsibilities for Telecommunicator of the Year Candidates
Plans, organizes, establishes objectives; resolves difficult and complex operational issues; participates in the administration of a communications center, and supervises one or more employees.
Is familiar with all operations and functions expected of subordinates and demonstrates that knowledge on a regular basis.
Monitors and evaluates staff performance for completeness, accuracy and compliance with established policies and procedures.
Recognizes performance issues and takes appropriate measures to correct, or praise employees.
Is able to quickly prioritize and organize operational functions and makes appropriate decisions in stressful situations.
Recognizes and mitigates potential issues within, or affecting, the Communications Center and is able to diffuse tense situations.
Maintains a professional attitude at all times and ensures employees maintain the same.
Promotes a positive working relationship with subordinates as well as supervisors, coworkers, and other professional entities.
Trainer of the Year
Sample Job Titles  (Not all-inclusive)

Communications Training Officer (CTO), Field Training Officer (FTO), Communications Training Instructor, Career Development Coordinator, Manager, Supervisor, Training Specialist
Sample Responsibilities for Telecommunicator of the Year Candidates
Plans, develops, schedules and conducts on-the-job and/or classroom training for 911 and public safety communications call takers, dispatchers, and supervisors.
Evaluates trainees' skills and job performance.
Plans and/or develops advanced training for 911 public safety communications call takers, dispatchers, and supervisors.
Assists with developing and enhancing trainees' professional knowledge, skill, and ability through in-service training or career development training.
Team of the Year
This award is designed to honor two or more individuals from the same public-safety communications agency who worked on the same incident, event or project. Team members may hold any titles within the public-safety communications center.
Radio Frequency Technologist of the Year
Sample Job Titles  (Not all-inclusive)

Radio Frequency Director, Electronics Communications Technician, Telecommunications Engineer, Communications Technician Supervisor, Senior Communications Technician, Radio Lead Technician, Radio Technician, Technical Systems Administrator, etc.
Sample Responsibilities for Telecommunicator of the Year Candidates
Manages the installation, operation, and maintenance of equipment.
Knowledge of current NFPA code adoptions for public safety in-building radio systems.
Maintains knowledge of 800 Mhz, 900 MHz, and P25 radio communications systems and equipment
Possesses experience in UHF/VHF radios, repeaters, digital/analog microwave and an extensive network of mobile radios.
Demonstrates ability to work with many different user agencies.
Possesses ability to provide information to assist in grant writing for radio.
Prepares and maintains various records of maintenance and operation as required by the FCC including renewal of FCC licensing.
Installs and/or oversees the installation of radio site ground, antenna systems, security systems, carrier equipment (T1, DS3), emergency power generators, fuel systems, towers, transmission lines, and site alarm status reporting equipment.
Maintains current experience in state of the art electronic equipment repair, including bench repair and radio transmitting and receiving equipment.
Plans for infrastructure additions, site expansions and improvements as necessary to insure coverage and systems reliability.
Assist and receive training in analyzing, troubleshooting and maintaining the communications network and computer based systems to ensure inter-operability with other government agencies and offsite access in emergencies.
Develops and presents written and oral recommendations, budgets, and schedules for upgrading existing systems.
Information Technologist of the Year
Sample Job Titles  (Not all-inclusive)

Systems Administrator, Information Technologist Specialist, Information Technologist, Network Administrator, Systems Engineer, Senior Computer Analyst, CAD/GIS Administrator, Network Services Supervisor, NCIC/CAD System Manager, Technician, 9-1-1 Systems, Information Technology Coordinator, Senior Project Manager, Records Technician (Master Addressing Guide – MSAG Coordinator), Mobile/CAD System Administrator, Information Technology Specialist 4, IT Tech and Address/Mapping Coordinator, Operations Support Technician, GIS Analyst, etc.
Sample Responsibilities for Telecommunicator of the Year Candidates
Provides technical support and performs professional work related to the operation and support of computer hardware, peripherals, and software applications.
Participates in the evaluation and implementation of new computing technologies.
Performs complex level application support work on the agency's computer applications systems.
Provides project and program leadership to professional and technical staff.
Provides project management for large scale support projects.
Performs routine to complex level application support work on the agency's computer applications systems.
Performs advanced level telecommunications work related to the purchase, installation, and maintenance of communications equipment.
Performs technical work gathering, analyzing, and summarizing various types of data including GIS information
Nominate ECCs for Technology Leadership
Want to recognize an ECC using technology to benefit their center, employees and customers?