From Paper to E9-1-1 to NG9-1-1 and Beyond
The public safety communications industry has changed drastically since APCO was founded in 1935. ECC staff must now be knowledgeable about cutting edge technologies — not only how they work but how they will impact their ECCs and the community they serve.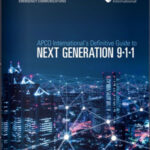 Get a copy of
APCO Internationals Definitive Guide to Next Generation 9-1-1
, published August 8, 2022.