By Jeff Cohen
APCO members often contact us to ask for talking points to prepare for meetings with their U.S. Senators and Representatives. Having accurate talking points to speak from – or leave with the congressional staffers you meet with – can ensure that you use your meeting time efficiently and are prepared to answer key questions about the issues. Following up on the blog describing APCO's advocacy priorities for 2022, here are talking points for our top legislative issues: 1) securing federal funding for Next Generation 9-1-1; 2) correcting the federal classification of public safety telecommunicators; and 3) funding health and wellness programs for 9-1-1 professionals.
Please feel free to contact our team ([email protected]) if you have questions. If you are able to secure a meeting with any members of Congress or their staffers, we are happy to assist with additional prep (such as more detailed talking points) and meeting follow-ups as well.
Secure major federal funding to implement Next Generation 9-1-1 (NG9-1-1) nationwide.

Modernizing our nation's 9 1 1 systems with strong cyber protections and advanced broadband capabilities should be a national security priority. The need to upgrade the nation's 50+ year old 9-1-1 systems grows more urgent by the day. Unfortunately, these mission critical systems are increasingly vulnerable to cyber attack, and outdated technologies inhibit emergency response.
We need to deploy NG9-1-1 throughout the country in a comprehensive, secure, innovative, cost-effective, and interoperable manner. ECCs should be able to receive and process voice, text, and multimedia content and share it with other ECCs or with first responders in the field. Some states have made partial progress, but a significant federal funding program is needed to achieve this vision of comprehensive and interoperable NG9-1-1 service.
Public safety groups have developed legislative language and are calling for a $15 billion federal grant program to deploy NG9-1-1 nationwide.
Funding NG9-1-1 has bipartisan support.
Lives will be saved by ensuring that our nation's 9-1-1 systems are secure and that our communities have access to advanced communications tools during emergencies.

Fix the federal classification of Public Safety Telecommunicators.

Public safety telecommunicators should be categorized as Protective Service Occupations. The federal government maintains a catalogue of occupations, the Standard Occupational Classification (SOC), for statistical purposes. The SOC categorizes Public Safety Telecommunicators as an administrative/clerical occupation, but this is outdated. There is a much more appropriate "protective" category.

Under the SOC's classification rules, occupations are supposed to be grouped based on the work performed. 9-1-1 professionals save and protect lives every day. Therefore, instead of being classified as clerical personnel, they should be with the "Protective Service Occupations" – a broad group that includes playground monitors, parking enforcement workers, and several other occupations.

The 9-1-1 SAVES Act (HR 2351/S 1175) is a bipartisan, zero-cost bill that would correct the classification. The 9-1-1 SAVES Act would direct the Office of Management and Budget (which controls the SOC) to correct the federal classification of Public Safety Telecommunicators from "Office and Administrative Support Occupations" to "Protective Service Occupations."

Correcting the classification of public safety telecommunicators would make the SOC a more accurate and useful statistical resource.

9-1-1 professionals deserve recognition for their lifesaving roles. Correcting the SOC would have no direct impact on salaries or benefits.

Fund health and wellness programs for 9-1-1 professionals.

9-1-1 professionals suffer substantial impacts to their mental health as part of their work in emergency response. Imagine the stress of coaching a panicked caller through CPR, responding to cries for help during an assault, or dealing with other traumatic events.

Depression, anxiety, and PTSD are serious problems for this community. Research has shown that one in seven 9-1-1 professionals admitted to recent suicidal thinking. Supporting these professionals is the right thing to do, and it will help to address the staffing shortages in 9-1-1.

The PROTECT 9-1-1 Act (HR 4319) would provide much-needed assistance for 9‑1‑1 professionals. This legislation has four key elements:

establishing a grant program to fund wellness programs (such as peer support programs) in ECCs;

developing best practices to identify, prevent, and treat posttraumatic stress disorder in public safety telecommunicators;

developing resources to help mental health professionals better treat these personnel; and

developing a system for tracking public safety telecommunicator suicides.

This legislation already has bipartisan support in the House of Representatives. APCO is working with offices in the Senate to introduce a companion to the House bill.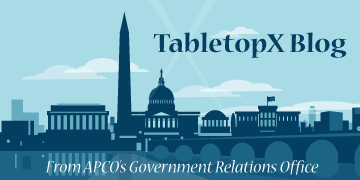 About the TabletopX Blog
A "Tabletop Exercise," often shortened as "TTX," is a discussion-based exercise frequently used by emergency planners. Led by a facilitator using a planned scenario, TTX participants describe the actions they would take, and the processes and procedures they would follow. The facilitator notes the players' contributions and ensures that exercise objectives are met. Following the exercise, the facilitator typically develops an after-action report and conducts a debrief discussion during which players and observers have an opportunity to share their thoughts, observations, and recommendations from the exercise without assigning fault or blame.
Many of the attributes of a TTX are the same we seek to promote in the discussion generated from our blog posts. The goal is to capitalize on the shared experiences and expertise of all the participants to identify best practices, as well as areas for improvement, and thus achieve as successful a response to an emergency as possible.
TabletopX blog posts are written by APCO's Government Relations team and special guests.