By Jeff Cohen
We just started a new year, but there are only a few months left to achieve a number of public safety legislative objectives before Congress enters into election mode.
Click on the topics listed below to read background info and talking points for raising these matters, especially if you have plans to visit with your representatives in Washington, DC, or perhaps during a local meeting or ECC visit. APCO will continue to push for progress on these important public safety matters, but elected officials need to hear from their constituents, too. You can always reach us by email for updates or to discuss any of these issues: [email protected].
Reclassification as 'Protective Service Occupations'
APCO has long been championing a needed change to the federal government's Standard Occupational Classification (SOC) system, which is managed by the U.S. Office of Management and Budget (OMB). The SOC is used by federal agencies to categorize occupations across the U.S. for statistical purposes, and its classification of 9-1-1 professionals is completely wrong. OMB must correct the SOC to reclassify public safety telecommunicators (PSTs) from the "Office and Administrative Support" category to the "Protective Service" category.
In my experience, this is one of the most logical and straightforward asks we could ever make. The SOC is supposed to classify occupations by the work performed. PSTs protect and save lives every day. The SOC's Protective Service category is very broad – including law enforcement officers, lifeguards, casino gambling monitors, playground monitors, and parking enforcement officers (aka – "meter maids"). Reclassifying PSTs into the Protective Service category is entirely appropriate and would lead to more accurate data for federal agencies that utilize the SOC. Yet OMB staff have refused to fix the classification. For some reason, they're unfazed by how wrong it is to consider the work performed by PSTs as similar to the clerical work of secretaries and taxicab dispatchers.
We have been successful in having legislation, the 9-1-1 SAVES Act, introduced in Congress that would require OMB to fix its mistake. We have strong bipartisan support, but we should continue to add more cosponsors. If you haven't already done so, or not yet asked everyone you know, Contact your U.S. Rep/Senator.
It is also important to press key Members who control the 9-1-1 SAVES Act's progress through the required committees:
Outside of Congress, there remains the option of getting the attention of OMB or the President himself. OMB has complete discretion to correct its own error any time it wants. Contact OMB.
We will continue to try to make inroads with all of these key actors in finally getting 9-1-1 professionals the recognition and respect they deserve by reclassifying PSTs into the SOC"s "Protective Service" category.
Talking Points
The federal government's classification of 9-1-1 professionals as clerical workers is wrong and fails to recognize the lifesaving work performed by our nation's 9-1-1 call-takers and dispatchers (collectively known as Public Safety Telecommunicators).
Congress can fix this by passing the 9-1-1 SAVES Act, which would direct the Office of Management and Budget to update the Standard Occupational Classification (SOC), a vast catalog of occupations relied upon by federal agencies for statistical purposes.
The current version of the SOC categorizes Public Safety Telecommunicators as administrative/clerical in nature, in the same group for secretaries, office clerks, and taxicab dispatchers, which is inaccurate and a disservice to the lifesaving work and dedication of 9-1-1 professionals.
Public Safety Telecommunicators should be categorized as Protective Service Occupations, which includes a broad range of occupations: lifeguards, gambling surveillance officers, fish and game wardens, parking enforcement workers, firefighters, and playground monitors, among others.
Occupations are supposed to be classified according to the nature of the work performed. Every day, Public Safety Telecommunicators provide lifesaving emergency medical instruction, deal with suicidal persons, assess scene safety for arriving responders, and play a critical role for active shooter incidents and a variety of other emergencies.
The 9-1-1 SAVES Act would correct the federal classification by appropriately grouping Public Safety Telecommunicators with other "protective" occupations. As a result, federal statistical activities would be more accurate.
Reclassifying these professionals as Protective Service Occupations has broad support from the 9-1-1 community and others familiar with the lifesaving work of Public Safety Telecommunicators, and bipartisan support in the House (H.R. 1629: 113 cosponsors) and Senate (S. 1015: 25 cosponsors).
This is a simple, zero-cost solution that would have no direct impact on salaries or benefits.
Reclassification is common sense, and about getting Public Safety Telecommunicators the recognition they deserve for the work they do every day to protect and save the lives of the public and first responders.
If you get any tough questions or even opposition, please let us know. So far there has not been a question or concern that we don't have a strong rebuttal to.
Next Generation 9-1-1
While many areas are making progress, APCO has been concerned that the lack of desperately needed funding, combined with the lack of interoperability and multimedia capabilities in early "next gen" deployments, has made progress towards NG9-1-1 slow and uncertain.
Last year, APCO collaborated with other public safety groups to formulate legislation that would establish a significant one-time federal grant program to achieve Next Generation 9-1-1 nationwide.
The Next Generation 9-1-1 Act of 2019 is bipartisan in the House. An identical version has been introduced in the Senate. It's an excellent bill that would:
Preserve state and local control of 9-1-1 and responsibility for ongoing funding;
Establish a $12 billion federal grant program (the cost came from a federal study);
Provide a modern, comprehensive definition of NG9-1-1 that would lead to a complete, end-to-end capability for 9-1-1 emergency communications centers (ECCs) to receive, process, analyze, and share all forms of communications including multimedia;
Require interoperability, to ensure that ECCs can share all incident data with other ECCs and responders in the field, regardless of vendor, equipment, jurisdictional boundaries, etc.; and
Require states to develop a sustainable funding mechanism so that ECCs continue to have the resources needed for operations, maintenance, and upgrades once the federal grant program expires.
Talking Points
The communications technologies available to the general public significantly outpace what is available to 9-1-1. As a result, consumer expectations concerning the capabilities of the nation's 9-1-1 systems are far from reality.
Congress should pass the Next Generation 9-1-1 Act of 2019 (H.R. 2760; S. 1479), which provides funding and accomplishes several other important goals for NG9-1-1.
Federal funding is needed to quickly and efficiently modernize ECCs across the country for the benefit of public safety and national security, and to have the U.S. serve as a model for the rest of the world. At the same time, the Act would preserve state and local control over 9-1-1 operations, as well as responsibility for ongoing costs.
The Act's comprehensive definition of NG9-1-1 will lead to a complete solution and uniform experience throughout the country.
A requirement for interoperability is essential to effective and efficient emergency response and will help drive innovative, competitive, and cost-effective solutions.
9-1-1 is among the nation's most critical infrastructure. Congress should consider standalone funding sources (such as spectrum auction revenue) and include NG9-1-1 funding in any major infrastructure package.
T-Band (470-512 MHz)
Spectrum known as the "T-Band" is used in a number of metropolitan areas to support critical public safety communications and provide regional interoperability among first responders. Current federal law mandates that the FCC begin a process to relocate public safety users and auction the T-Band for commercial use by February 2021. This provision of law was enacted as part of the 2012 legislation that created FirstNet. While at the time it may have been expected that public safety would have other options for mission critical radio communications, that has not turned out to be the case.
There are identical bills in the House and Senate that would change the law so public safety can keep using the T-Band. Public safety should not have to make any "trades" or other concessions because, according to a federal study, moving current users off the T-Band would actually cost much more than the potential value of the spectrum for commercial use.
Talking Points
9-1-1, law enforcement, fire, and EMS agencies depend on spectrum known as the T-Band in a number of major metropolitan areas to meet their mission-critical communications needs.
Congress should pass the Don't Break Up the T-Band Act (S. 2748; H.R. 451) to repeal an existing law that would require public safety to vacate this spectrum. Public safety agencies operating in the T-Band would be left with few if any viable alternatives.
A federal study showed that the cost of relocating current T-Band users would be much greater than the potential revenue from auctioning the spectrum. Thus, letting public safety keep the T-Band would have no impact on the federal budget.
Spectrum is not a luxury for public safety, but rather a necessary tool to carry out their mission to save and protect lives. Public safety should not have to make any concessions.
9-1-1 Fee Diversion
States that assess 9-1-1 fees on phone bills should spend this revenue on 9-1-1. Unfortunately, some states persistently raid these funds for other purposes. This practice not only harms 9-1-1 professionals, many of whom already struggle with insufficient funding and staffing, but is deceptive and unfair to those who pay these fees. Pursuant to federal law, the FCC annually reports on the collection and use of 9-1-1 fees, which mostly has the purpose of "naming and shaming" states that engage in 9-1-1 fee diversion. This has resulted in at least some diverter states changing their ways.
There have been some efforts in Congress to help prevent 9-1-1 fee diversion. However, there does not yet seem to be an effective solution to the problem. The best approach so far has been to prevent diverter states from being eligible for federal 9-1-1 grants. Absent any real "pain" (such as loss of major grant funding) there is little chance that states will put an end to this very unfortunate practice.
Talking Points
States that divert 9-1-1 fees for other purposes do a disservice to 9-1-1 professionals and the citizens they serve.
A significant federal grant program, such as the Next Generation 9-1-1 Act of 2019, that would disqualify states that divert 9-1-1 fees, could be very helpful for ending 9-1-1 fee diversion.
Ending fee diversion is important but is not a solution for meeting the funding needs of states and localities to make a full transition to Next Generation 9-1-1 because the funding needed for NG9-1-1 far exceeds the amount of fees being diverted.
Ultimately, the focus should be on ensuring 9-1-1 has the funding it needs, whatever the source of that funding.
6 GHz Microwave Band
Public safety heavily uses and relies upon the 6 GHz band for fixed point-to-point microwave links essential to public safety services. The Wi-Fi (unlicensed spectrum) industry has made a strong push at the FCC to require public safety and other incumbents to share their 6 GHz spectrum. The FCC has proposed to allow sharing, and would to some extent require a new frequency sharing technology to attempt to prevent interference to public safety users. The problem is whether the sharing technology would apply to all new sharing of the spectrum and whether the technology can be proven in advance to truly prevent interference and detect and eliminate any sources of interference that occur. APCO has weighed in to express significant concern with the FCC's proposal.
While this proposal remains pending at the FCC, this issue has also gotten the interest of Congress. No legislation has been introduced yet, but it's possible that Congress would take action before the FCC.
Talking Points
Public safety makes heavy use of the 6 GHz band to support critical 9-1-1 dispatch and first responder radio communications.
Outside of the prospect of using the federal 7 GHz band, public safety has no other spectrum options to satisfy these communications needs.
If the 6 GHz band is opened for sharing, the spectrum sharing technology must be proven to work before putting it to use with hundreds of millions of unlicensed devices that could cause interference to public safety communications.
There is no turning back once unlicensed devices are permitted to share this spectrum – if interference occurs that cannot be immediately addressed, there will be irreparable adverse consequences to emergency communications and response.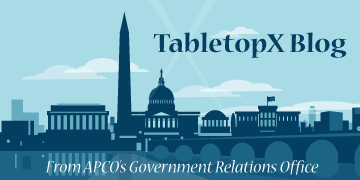 About the TabletopX Blog
A "Tabletop Exercise," often shortened as "TTX," is a discussion-based exercise frequently used by emergency planners. Led by a facilitator using a planned scenario, TTX participants describe the actions they would take, and the processes and procedures they would follow. The facilitator notes the players' contributions and ensures that exercise objectives are met. Following the exercise, the facilitator typically develops an after-action report and conducts a debrief discussion during which players and observers have an opportunity to share their thoughts, observations, and recommendations from the exercise without assigning fault or blame.
Many of the attributes of a TTX are the same we seek to promote in the discussion generated from our blog posts. The goal is to capitalize on the shared experiences and expertise of all the participants to identify best practices, as well as areas for improvement, and thus achieve as successful a response to an emergency as possible.
TabletopX blog posts are written by APCO's Government Relations team and special guests.