By Jeff Cohen
Back in January, we posted a blog outlining our top legislative and regulatory priorities for 2021. Now that we are six months into the year, and with APCO's Annual Conference right around the corner, we're writing to reflect on the "why" behind our advocacy. APCO is driven by the needs of its public safety membership. Here are a few examples of how our advocacy priorities are rooted in our members' needs.
Reclassification of Public Safety Telecommunicators
Our members are particularly passionate about fixing the classification of public safety telecommunicators in the federal Standard Occupational Classification (SOC) – changing from "Office and Administrative Support Occupations" to "Protective Service Occupations." When congressional offices ask us why this is important, given that changing the classification will not directly impact salaries or benefits, we share what we've heard from our members: when a 9-1-1 call comes in, and it's your job to coach someone through CPR or convince a suicidal person not to harm themselves or others, how is that clerical work? The stories our members share help expose the inaccuracy of the current SOC classification and fuel our advocacy.
Since 2014, APCO has been pushing for the SOC to be revised to more accurately reflect the protective nature of the work performed by public safety telecommunicators. In April 2021, the 9‑1‑1 SAVES Act (H.R.2351/S.1175), a bill that would direct the Office of Management and Budget to correct the SOC, was reintroduced in Congress with bipartisan support. APCO has worked to increase support for the bill by launching a grassroots advocacy campaign and sharing the many lifesaving stories we've heard from our members with representatives in Congress.
Federal Funding for Next Generation 9-1-1
APCO has been advocating for legislation that would provide federal funding in the form of $15 billion to modernize emergency communications centers (ECCs) across the country to Next Generation 9-1-1 (NG9-1-1). From listening to our members, we know that funding and new technologies are only part of what's needed. That's why APCO has pushed for a comprehensive approach to NG9-1-1 that ensures ECCs have all the resources they need – including for appropriate training – to fully modernize their systems in an end-to-end, secure, interoperable, and non-proprietary manner.
9-1-1 Location Accuracy
Locating wireless 9-1-1 callers is a universal challenge, especially when callers are in multistory buildings. For several years APCO has pressed wireless carriers and the FCC for improved location information. Our focus has been on what will be the most useful, actionable information for the 9-1-1 professional: dispatchable location (meaning the street address, floor, and room or suite number). This is what 9-1-1 directors say they need, but at times, APCO has been the lone voice at the FCC pushing for dispatchable location rather than an x/y/z coordinate-based (think "point in space") approach.
We have heard many stories from our members about the importance of quickly locating a 9-1-1 caller and the type of information that they need. Information such as "101 Main Street, Suite 700" is much more useful than what carriers are presently set to provide: for example, "101 Main Street, 20 meters "Height Above Ellipsoid" +/- 3 meters." An x/y/z coordinate-based approach presumes that ECCs would be able to use the "Height Above Ellipsoid" information, which could entail the nearly impossible task of developing 3D maps of every building to make this information useful. Dispatchable location information is what 9-1-1 needs, regardless of the preferences or plans of wireless carriers and vendors. (For more information about the difference between dispatchable location and Height Above Ellipsoid click here.)
Wellness for 9-1-1 Professionals
In a way, many of APCO's advocacy goals can be connected to the challenging nature of working in 9-1-1, whether it's about recognizing the lifesaving work or providing the right resources to make the job a little easier. Working in emergency communications has a significant impact on these professionals' health and wellness. Research has shown that one in seven public safety telecommunicators has contemplated suicide in the past year. While many agencies have developed wellness programs for 9-1-1, more support is needed. APCO is raising awareness of these issues and exploring legislative opportunities to include public safety telecommunicators in public safety wellness programs and provide dedicated resources for ECCs.
Understanding the challenges our members face and being able to explain why their work is so important to policymakers is extremely helpful. We are especially eager to reconnect with our members at the APCO Annual Conference in San Antonio this August, and we encourage all of you to reach out at any time to share information about the challenges you face and how we can help. Please contact [email protected] to share your thoughts on these issues or to connect with us at the Annual Conference.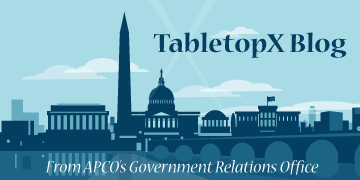 About the TabletopX Blog
A "Tabletop Exercise," often shortened as "TTX," is a discussion-based exercise frequently used by emergency planners. Led by a facilitator using a planned scenario, TTX participants describe the actions they would take, and the processes and procedures they would follow. The facilitator notes the players' contributions and ensures that exercise objectives are met. Following the exercise, the facilitator typically develops an after-action report and conducts a debrief discussion during which players and observers have an opportunity to share their thoughts, observations, and recommendations from the exercise without assigning fault or blame.
Many of the attributes of a TTX are the same we seek to promote in the discussion generated from our blog posts. The goal is to capitalize on the shared experiences and expertise of all the participants to identify best practices, as well as areas for improvement, and thus achieve as successful a response to an emergency as possible.
TabletopX blog posts are written by APCO's Government Relations team and special guests.