Looking back at 2020, one of the bright spots for APCO was joining with other leading public safety associations to advocate for legislation that would establish a significant one-time federal grant program to achieve Next Generation 9‑1‑1 (NG9‑1‑1) nationwide.
Following months of collaboration between various public safety associations and congressional staff, the Next Generation 9-1-1 Act of 2019 (H.R. 2760; S. 1479), was introduced in May 2019. The bill would authorize $12 billion in federal funding to help state and local governments deploy NG9-1-1, preserve state and local control, modernize definitions of key terms such as NG9-1-1, interoperability, and Emergency Communications Center (ECC), and place conditions on grant recipients to achieve interoperability, prevent 9‑1‑1 fee diversion, and have a sustainable funding mechanism in place for ongoing operational needs. The introduction of this bill was a great starting point for building momentum in Congress and raising awareness of the need for significant federal support to update 9‑1‑1 systems across the country.
After the bill was introduced, APCO joined with national public safety organizations representing fire/rescue, emergency medical service, and law enforcement professionals to establish a formal coalition for ongoing advocacy known as the Public Safety Next Generation 9-1-1 Coalition. This cross-section of public safety will be more effective than any one group alone at building support in Congress, and the broad participation helps to convey the fact that NG9‑1‑1 upgrades will benefit all areas of public safety.
The Coalition is committed to advancing legislation to enable a nationwide upgrade to NG9‑1‑1 that is interoperable, competitive, innovative, and secure. The member organizations united behind legislative principles that will address the needs and concerns of public safety. For example, NG9‑1‑1 should be technologically and competitively neutral, and use commonly accepted standards that do not lead to proprietary solutions that hamper interoperability, make mutual aid between agencies less effective, limit choices, or increase costs. With principles like this in mind, the Coalition developed several additional measures to make the legislation more impactful, including increasing the level of funding, establishing a public safety advisory board, creating additional measures on cybersecurity, and bolstering the interoperability provisions.
The Coalition is advocating for federal grant funding in the amount of $15 billion. Achieving NG9‑1‑1 uniformly throughout the United States will require a significant influx of federal funding, particularly in light of the anticipated budget shortfalls as a result of the COVID-19 pandemic. To assist with the development of grant program requirements, a new Public Safety Advisory Board would be established with representatives from 9‑1‑1 and other public safety disciplines. Among other things, the board would provide a variety of recommendations regarding the importance of deploying NG9‑1‑1 in both rural and urban areas, ensuring flexibility for technology improvements, and the value of enabling effective coordination among government entities.
Part of the advocacy effort entails promoting a common vision that achieving NG9‑1‑1 will result in true interoperability and multimedia capabilities across the emergency communications ecosystem. ECCs still have interoperability problems when it comes to transferring voice calls to other ECCs, even when both centers have deployed Emergency Services IP Networks. And NG9‑1‑1 should go beyond voice-only calls and enable ECCs to receive, process, and analyze all types of 9‑1‑1 requests for emergency assistance and share relevant information with other ECCs and emergency responders.
A joint public safety effort like this has not been undertaken since the Public Safety Alliance (which included many of the same organizations as the new Coalition) came together nearly a decade ago and successfully lobbied Congress to pass the law that created FirstNet, established a $115M 9‑1‑1 grant program, and provided hundreds of millions of dollars for public safety communications research. As 2021 begins, APCO and its Coalition partners will continue to make NG9‑1‑1 a legislative priority and press for a similar success.
You can contact APCO's Government Relations Office with any feedback by emailing [email protected].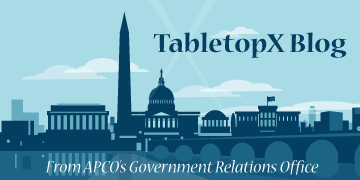 About the TabletopX Blog
A "Tabletop Exercise," often shortened as "TTX," is a discussion-based exercise frequently used by emergency planners. Led by a facilitator using a planned scenario, TTX participants describe the actions they would take, and the processes and procedures they would follow. The facilitator notes the players' contributions and ensures that exercise objectives are met. Following the exercise, the facilitator typically develops an after-action report and conducts a debrief discussion during which players and observers have an opportunity to share their thoughts, observations, and recommendations from the exercise without assigning fault or blame.
Many of the attributes of a TTX are the same we seek to promote in the discussion generated from our blog posts. The goal is to capitalize on the shared experiences and expertise of all the participants to identify best practices, as well as areas for improvement, and thus achieve as successful a response to an emergency as possible.
TabletopX blog posts are written by APCO's Government Relations team and special guests.