By Jeff Cohen
APCO recently filed two formal petitions with the FCC regarding a major change it made to regulations that govern the use of spectrum that is relied upon by public safety. One was a Petition for Reconsideration, urging the FCC to repeal the new rules and fix numerous problems; the other was a Petition for Stay, asking the FCC to prohibit anyone from taking advantage of the new rules while the Petition for Reconsideration is under review. Together, these petitions are just one step short of challenging the FCC's rules in federal court. This is a rare move for APCO, but it was necessary given the real risk of irreparable harm to public safety.
How Did We Get Here?
In April, the FCC made a major change to its rules governing the 6 GHz band. The goal was to make more spectrum available for unlicensed use to support things like "next generation Wi-Fi." To do this, the FCC decided to open up a large pool of spectrum in the 6 GHz band, which is predominantly used for licensed point-to-point microwave links. Several stakeholders, including multiple public safety organizations, voiced concerns with the FCC's plan for sharing the 6 GHz band.
Public safety agencies extensively use the 6 GHz band for mission critical systems that support operational needs such as dispatching first responders and maintaining land mobile radio communications during incidents. Disruption to these systems could have dire consequences. Assistance to the public could be delayed. Law enforcement officers, emergency medical technicians, and firefighters might lack the ability to transmit emergency calls for assistance and other information essential for protecting life and property. Other current users of the 6 GHz band use links for coordination of railroad train movements, control of natural gas and oil pipelines, management of electric grids, and telephone service.
These microwave links require prior frequency coordination and an FCC license to operate, and they're extremely dependable, on the order of 99.999% reliability or better (which means less than ~5 minutes of downtime a year). If the 6 GHz band becomes unreliable for mission critical communications, public safety agencies will not have good options. In the best-case scenario, public safety agencies would have to pay to switch to fiber connections or less suitable microwave links that would likely involve much higher costs (and it's not clear that such options would even be available). That's not fair to public safety, and there's a way to share spectrum without so much risk.
In APCO's advocacy to the FCC, we made clear that we weren't completely opposed to the idea of public safety sharing spectrum with unlicensed users, provided that the spectrum sharing approach was thoroughly evaluated and proven effective before putting public safety communications at risk. That's not what happened. In fact, the FCC adopted the new rules without directly addressing public safety's concerns at all, which federal judges have said the FCC is required to do by law.
A High-Level Description of the FCC's New Rules
The FCC's new rules allow operation of unlicensed "standard power" and "low power" transmitters ("access points"). The expectation is that hundreds of millions of these devices would eventually be used for hotspot networks, rural broadband, and Wi-Fi routers in homes, schools, businesses, etc. The FCC established different rules for the two types of access points to reduce the likelihood of interference to licensed users like public safety.
For standard power devices, the ability to prevent interference depends on an automated frequency coordination (AFC) system's ability to assign frequencies to unlicensed access points by defining exclusion zones that restrict transmissions in locations that could interfere with licensed users. The AFC is a relatively new concept that has never been used for sharing spectrum with public safety. One of APCO's basic concerns has been that a new spectrum sharing tool like the AFC needs to be thoroughly tested before being launched for real-world use where there could be harm to public safety. This would be an entirely reasonable approach. Yet, before testing to prove this kind of spectrum sharing can work, the FCC decided to allow deployment of these new devices, and it's not clear what testing requirements will ever be imposed. To make matters worse, there are several major gaps in the plan for how an AFC would work that make it unlikely that it will be able to prevent interference to public safety.
For low power devices, there wouldn't even be an AFC that would attempt to prevent unlicensed access points from using the same frequencies being used by public safety. Instead, the FCC made a rule that these devices stay indoors, and the FCC assumes they'll be too weak to cause interference. APCO expressed concern that nothing will prevent people from using these devices outdoors on balconies and rooftops, and even if the devices stay indoors, we don't necessarily agree with the assumption that building walls and windows will prevent the signals from causing interference.
But there's even a more fundamental problem with the entire FCC scheme. Instead of establishing requirements we would expect to ensure that interference caused to public safety is promptly identified and eliminated, the FCC abandoned this obligation in favor of only "encouraging" the very same unlicensed companies that are benefiting from the new rules to voluntarily address these key issues. When interference occurs, the only information available to public safety agencies will be that the microwave link has stopped providing the mission critical communications it was designed for. These systems are not designed to detect interference and are incapable of attributing it to a particular source. Attempting to identify the source(s) of interference is a long, resource-intensive, expensive process – particularly when dealing with unlicensed devices – and many questions remain regarding how to promptly eliminate interference after the source has been identified.
APCO raised many concerns during a formal public comment period and after the FCC released a draft of the rules it planned to adopt. For whatever reason – maybe the significant amount of debate on technical issues, maybe the intense pressure from companies like Apple, Facebook, Google, and Microsoft that were lobbying for the new rules – the Commission overlooked public safety.
If the rules move forward uncorrected, public safety will suffer irreparable harm. Protecting public safety communications will be more difficult every day that the rules are in effect, and eliminating the hundreds of millions of problematic devices after they have begun operating will be nearly impossible.
What Happens Next?
This is the beginning of what could be a very long process. Ideally, the FCC would immediately hit Pause on the new rules and rethink the approach to protecting public safety like APCO requested. The FCC also has the discretion to just deny APCO's petitions. In either case, we will remain engaged and pursue a solution that meets the needs of public safety.
Remaining Vigilant
While we've been dealing with this problem in 6 GHz, we've also been monitoring a separate proceeding to address the 4.9 GHz band, which is a much smaller pool of spectrum that is dedicated to public safety. In 2018, the FCC proposed rule changes that would make the 4.9 GHz band more useful to public safety agencies in many ways, including making the band more flexible for microwave links. This was something APCO supported, along with other aspects of the proposal. We've been waiting for years for the FCC to revise its rules to make the 4.9 GHz band more useful for public safety. Unfortunately, there have been rumors that the FCC is considering reallocating this band, which would be a blow to public safety. If the 6 GHz band becomes less reliable, it will be even more important for public safety to have dedicated 4.9 GHz spectrum to turn to.
Expect to hear more about APCO's efforts to protect public safety spectrum in the near future.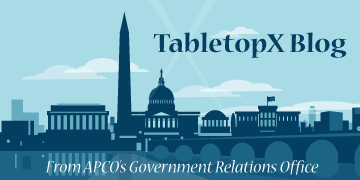 About the TabletopX Blog
A "Tabletop Exercise," often shortened as "TTX," is a discussion-based exercise frequently used by emergency planners. Led by a facilitator using a planned scenario, TTX participants describe the actions they would take, and the processes and procedures they would follow. The facilitator notes the players' contributions and ensures that exercise objectives are met. Following the exercise, the facilitator typically develops an after-action report and conducts a debrief discussion during which players and observers have an opportunity to share their thoughts, observations, and recommendations from the exercise without assigning fault or blame.
Many of the attributes of a TTX are the same we seek to promote in the discussion generated from our blog posts. The goal is to capitalize on the shared experiences and expertise of all the participants to identify best practices, as well as areas for improvement, and thus achieve as successful a response to an emergency as possible.
TabletopX blog posts are written by APCO's Government Relations team and special guests.