By Jeff Cohen, Chief Counsel & Director of Government Relations
APCO's Annual Conference and Expo is fast approaching.  We have the remaining program updates for the Cutting Edge Developments track to share.  APCO's Government Relations Office chooses content for this track, and we make a habit of holding one or two sessions open as close to the conference as possible to make sure we're delivering truly "cutting edge" content.  The new sessions include:
The Role of Social Media in Crisis Communications for the ECC
Sunday, August 11, 10:45 a.m. – 11:45 a.m.
Hear from the director of the Washington, D.C., Office of Unified Communications Karima Holmes as she discusses the use, benefits, and impacts of social media in Emergency Communications Centers and strategies for executing social media crisis communications and navigating its challenges and limitations.
Legislative and Regulatory Issues Impacting APCO Members
Monday, August 12, 2:00 p.m. – 3:00 p.m.
APCO's Senior Counsel Mark Reddish will provide an overview of three legislative/regulatory issues: the 9-1-1 SAVES Act, the Next Generation 9-1-1 Act of 2019, and 9‑1-1 location accuracy, and a panel of 9-1-1 directors will share their views of the real-world impacts.
Android ELS: Locating Emergency Calls in a Wireless World
Monday, August 12, 4:30 p.m. – 5:30 p.m.
Representatives from Google will discuss improvements to wireless 9-1-1 location accuracy, and how Android Emergency Location Service is delivering more accurate location, both indoors and outdoors, to ECCs.
I can also provide a little more detail on two of my own presentations.  In the Exhibit Hall Presentation Theater on Monday, August 12, 10:30 a.m. – 11:00 a.m., I'll be providing brief updates on APCO's top legislative priorities, including reclassifying public safety telecommunicators as "protective service occupations" and securing significant federal funding for NG9-1-1. And for the Cutting Edge track session, "The Ground Truth: Perspectives of 9-1-1 center leaders facing the challenges of evolving technology" (Wednesday, August 14, 10:15 a.m. – 11:15 a.m.), I will have the honor to be joined by:
Captain Scott Brillman, Director, City of Baltimore 9-1-1
Jason Kern, Executive Director, Southeast Emergency Communications (IL)
Maureen Will, Director of Communications, Newtown Emergency Communications Center (CT)
Captain Jeremy Hill, Co-Manager and Fire Captain, Amarillo Emergency Communications Center (TX)
Daniel Dunlap, 911 Director, Augusta 911 Center (GA)
The annual FCC update in the Cutting Edge track (Tuesday, August 13, 2:45 p.m. – 3:45 p.m.) will benefit from being a short drive from FCC headquarters.  A number of staff from the Public Safety and Homeland Security Bureau will be on hand to give an overview of the Bureau's work on 9-1-1, emergency alerts, and spectrum issues:
David Furth, Deputy Chief
Michael Wilhelm, Division Chief, Policy and Licensing
Chris Anderson, Division Chief, Operations and Emergency Management
Austin Randazzo, Division Chief, Cybersecurity and Communications Reliability
John Evanoff, Deputy Division Chief, Policy and Licensing
Elizabeth Cuttner, Staff Attorney, Policy and Licensing
Nellie Foosaner, Staff Attorney, Policy and Licensing
APCO will also continue the tradition of hosting senior federal government officials throughout the event, which is key because it demonstrates their commitment to understanding and supporting our members' public safety mission. During the Distinguished Achievers Breakfast, attendees will hear from FCC Chairman Ajit Pai and FirstNet Chair Ed Horowitz, and the Food for Thought Luncheon will feature remarks from FCC Commissioner Jessica Rosenworcel. Finally, as in past years, the Second General Business session will include updates from APCO's partners at the FCC and DHS: Lisa Fowlkes of the FCC's Public Safety Bureau, Ron Hewitt of DHS's Cybersecurity and Infrastructure Security Agency, and John Merrill of DHS's Science and Technology Directorate.
It's going to be a great conference. You can click on this link to see the fill list of Cutting Edge Developments track sessions, and be sure to take a look at the new FirstNet track for recent speaker additions as well.
I hope to see you in Baltimore.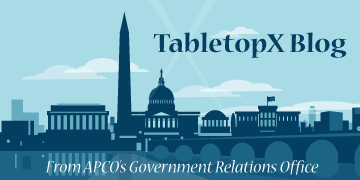 About the TabletopX Blog
A "Tabletop Exercise," often shortened as "TTX," is a discussion-based exercise frequently used by emergency planners. Led by a facilitator using a planned scenario, TTX participants describe the actions they would take, and the processes and procedures they would follow. The facilitator notes the players' contributions and ensures that exercise objectives are met. Following the exercise, the facilitator typically develops an after-action report and conducts a debrief discussion during which players and observers have an opportunity to share their thoughts, observations, and recommendations from the exercise without assigning fault or blame.
Many of the attributes of a TTX are the same we seek to promote in the discussion generated from our blog posts. The goal is to capitalize on the shared experiences and expertise of all the participants to identify best practices, as well as areas for improvement, and thus achieve as successful a response to an emergency as possible.
TabletopX blog posts are written by APCO's Government Relations team and special guests.