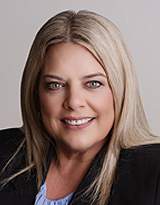 Becky Neugent, an Alabama native, began her career in public-safety in 1997 and is currently serving as the Director for Autauga 911.
She was initially hired by the Clarke County Commission to tackle the addressing project to move this Alabama county from basic 911 service to enhanced 911 service. In 1999, she began researching, reviewing and then installing all technology needed for the new 911 center including CAD, radio, recorder and CPE equipment. Since the start of her career, she has installed and built 3 CAD Systems, 4 911 phone systems, 3 different recording systems and several different versions of radio. Even though she was hired as the 911 Director at the beginning of her career she felt incumbent to learn all aspects of call-handling and radio dispatching processes and procedures. In 2000 she attended her first APCO Basic Public Safety Telecommunicator Course and then became an instructor and a full APCO member in 2001.
Since that time Becky has been actively involved in APCO at the local and international level. As a member of the Alabama Board of Directors she served as the Second VP, First VP and then President in 2006. In 2009, she was appointed as the Alabama Executive Council Representative where she would continue to serve in the capacity until 2016 when she was elected as the Gulf Coast Region Board of Directors Representative where she would serve two terms. During her time as the Executive Council Rep and the Gulf Coast Rep she would serve on many committees as both Vice-Chair and Chair.
Becky is proud to have earned her Basic Level Emergency Manager in 2011, her Certificate of Emergency Communication Administration designation through the State of Alabama in 2006 and she completed the Center Manager Certification Program in 2017.
In 2021, Becky was awarded life member status and was humbled to be elected to the APCO International Executive Committee.
Becky is the proud mother of two grown children, Will and Jordan, but her favorite role is being a "BB" to her three greatest loves of her life, her grandchildren, Madelyn, Trevor and Ella.