Expansion Band Relocation Considerations
Many licensees operate with spectrum in what is referred to as the Expansion Band (the range of frequencies 815-816/860-861 MHz). The FCC has indicated in the 800 Rebanding Report and Order that such licensees must "elect" to indicate whether or not they wish to retain their channels or select to move to frequencies lower in the band between 809-815/854-860 MHz. The FCC Rule establishes an assumption that PS users will move UNLESS they formally opt to remain on their existing channels.
The intent of the Expansion Band and the associated Guard band is to help separate public safety and other non-cellular type operations from the ESMR operations operating in the upper bands.
Considerations
For Remaining in the Band:
No history of interference from ESMRs
Area of operation is not likely to see development of future ESMR expansion
The FCC has implemented new enhanced interference protection criteria
Avoids disruption of rebanding
The new Guard band provides a separation buffer not existing in the current (pre-banding) configuration
For Electing to Move:
Ongoing history of interference
High potential for future expansion of ESMR systems in the area of operation
Freeze of area of operation. You may be unable to expand your area of operation if you are located on certain channels that were converted to EMSR operation in the Rebanding Rulemaking process.
Another important consideration
Rebanding will potentially lead to excess channels available to public safety exclusively for three years following the completion of rebanding in any given region. Agencies electing to move from the Expansion Band to the lower band will reduce the potential number of available extra channels in their area. Once the incumbent Public Safety user moves off a channel in the Expansion Band, then that channel is re-designated for SMR use only. Thus, the "channel" is lost as a PS resource in that area. For that reason, agencies may want to consider the advantages/disadvantages of moving off of the channel. If an agency believes that they will experience a chance of interference as a result of remaining on the channel, then they certainly should consider moving. If, on the other hand, there is a low probability of interference, then they may want to keep that frequency as a means of maximizing the total spectrum available for Public Safety use in the area.
Those licensees operating in the southeast portion of the United States should consult the FCC's Second Erratum to the 800 MHz R&O for additional information and slight changes to the band in certain designated areas.
Rebanding Channel Graphic Band Configuration Graphic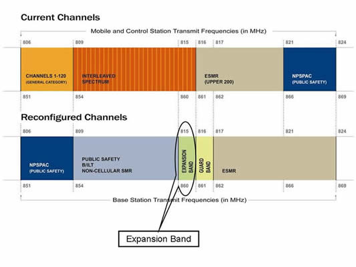 Twelve previously B/ILT channels converted to PS
311…………………………………………… 856.0125
312…………………………………………… .0375
313…………………………………………… .0625
314…………………………………………… .0875
351…………………………………………… 857.0125
352…………………………………………… .0375
353…………………………………………… .0625
354…………………………………………… .0875
391…………………………………………… 858.0125
392…………………………………………… .0375
393…………………………………………… .0625
394…………………………………………… .0875
Twelve previously PS channels converted to B/ILT
479…………………………………………… 860.2125
480…………………………………………… .2375
481…………………………………………… .2625
488…………………………………………… .4375
489…………………………………………… .4625
490…………………………………………… .4875
499…………………………………………… .7125
500…………………………………………… .7375
501…………………………………………… .7625
508…………………………………………… .9375
509…………………………………………… .9625
510…………………………………………… .9875