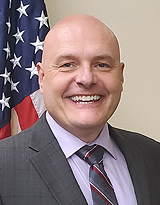 Mark Spross began his public safety career in 1989 working in his hometown in the State of Oregon as a Telecommunicator. Over the years, he has had the opportunity to work in four different ECC's across Oregon as a Telecommunicator, Operations Supervisor, Technical Services Manager, Operations Manager, and Executive Director. The majority of his career has been spent in an ECC but Mark also has experience as an Emergency Manager and nearly six years as a Deputy Sheriff. As time allows, Mark also instructs courses at the Oregon Department of Public Safety Standards and Training, which is the organization all Telecommunicators in Oregon must attend for their state certification.
Mark has been very active with his local Chapter serving on a handful of committees including chairing the legislative committee and leading the Oregon team in passing significant bills related to 9-1-1. He has served in all positions on the Executive Committee including two years as President and Past President along with serving as the Oregon Executive Council representative for APCO International. He co-chaired the Western Regional Conference in 2016 when it was held in Portland, OR. Mark has also been appointed by the Governor of Oregon to represent ECC's on a committee that oversees the state agency responsible for the statewide 9-1-1 network and emergency management.
At the International level, Mark has been a member of committees and task forces along with serving as a working group chair, vice chair, and chair. He has also served as a Group Leader which provides operational oversight over committees and serves as a liaison between those groups and the APCO Executive Committee.
Mark is a proud graduate of APCO's RPL and CPE courses. He has earned his Executive Certification from the Oregon Department of Public Safety Standards and Training along with his Master's in Executive Public Safety Administration from Portland State University.
In his role on the Executive Committee of APCO, Mark's goal is to ensure a fair and balanced approach to moving our association forward in the coming years.