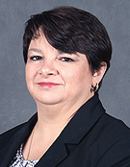 Angela Batey began her career in 1988, working her way up from front-line Telecommunicator to Communications Training Officer, and Shift Supervisor before becoming a part of the management team in 1993. She spent eleven years as the Training Coordinator and Professional Standards Manager at an Atlanta area 911 center before accepting a position with the Georgia Public Safety Training Center (GPSTC).
At GPSTC, Angela was responsible for coordinating communications training for Telecommunicators throughout the state of Georgia, including the state-mandated Basic Communications Officer Training Course. Angela continues to manage the Communications Training Program as part of her extensive portfolio.
In 1995, Angela joined APCO International, and she has been actively involved at both the Chapter and Association level ever since. As a member of the Georgia Chapter's Board of Directors, she served as a Board Officer-at-Large, Secretary, and Vice President, before being elected as the Executive Council representative in 2011. In 2017, Angela was elected as a representative to the APCO International Board of Directors for the Gulf Coast region, and re-elected in 2019 to a second term, before being elected to the Executive Committee.
Angela has served on numerous committees at both the Chapter and Association levels. She is a past chair of the APCO International Communications Center Standards (CCSC), Conference and Exposition Advisory (CEAC) Committees, and the APCO International Group Leaders.
Angela is a proud Senior and Life Member of APCO International. She holds the Registered Public-Safety Leader designation, and is honored to have earned the CPE designation, as a member of the inaugural Certified Public-Safety Executive course.
Angela is recognized as a Senior Public Safety Instructor by the Georgia Peace Officer Standards and Training Council. She has a Master's degree in Post-Secondary Education with a concentration in Adult Education from Troy University and a Bachelor's degree in Criminal Justice from St. Leo University. She also holds a certificate of Paralegal Studies and an Associate's degree in Psychology.
Angela is the proud mother of two grown daughters, Amanda and Allie, but her proudest role is as a doting grandma to her grandson Emmett. In her spare time, Angela enjoys spending time with her close-knit family, and watching baseball and college football.