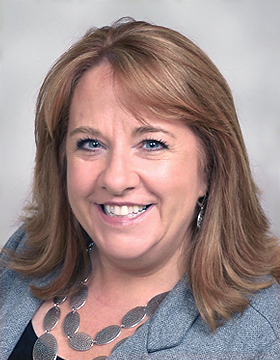 Margie Moulin began her radio career as a DJ in both country and top 40 music. In 1991, she made the transition to public safety radio when she was hired as a 9-1-1 Telecommunicator at a center in Southern Oregon.
Through the next 15 years, she worked as a Telecommunicator, Communications Training Officer, Dispatch Supervisor, Operations Manager, and Assistant Director. In 2006, she was named as Director of the Center.
During her tenure as Director, she led the center through the consolidation of the two emergency communications centers in the County, as well as the design and build of a new facility.
Margie began her membership with APCO in 1994, and has served at both the chapter and national levels. She is a member of the Oregon Chapter, and served on the Oregon Chapter Executive Committee for nine years. She was elected as the Vice President of the chapter in 2005, and served as President in 2006. She continued her service to the chapter and to APCO International as the Oregon Executive Council Representative from 2009 until 2015.
In 2015, Margie was elected to serve as one of the two Western Regional Representatives on the APCO Board of Directors, and remained in that position until being elected to the APCO International Executive Committee in 2018.
Margie has also served on numerous committees at both the Chapter and International levels. She has served as the legislative co-chair for the State of Oregon, and served as a Group Leader Chair for APCO International, providing support and oversight to all of the APCO International Chapters.
Margie has earned both her Senior and Life member status with APCO International, was among the first to graduate from the APCO RPL Certification, and was one of the first to receive the distinguished CPE Certification for APCO International.
Margie remains passionate about the 9-1-1 profession and public safety as a whole. Her husband and children are involved in public safety and service to others through law enforcement, health services, and the military. In her spare time, Margie enjoys hiking, swimming, and spending time with family.