Yesterday, FCC Chairman Tom Wheeler wrote a blog announcing that he has circulated an order that, per the tentative agenda also announced yesterday, would "ensure that accurate caller location information is automatically provided to public safety officials for all wireless calls to 911, including for indoor calls, to meet consumer and public safety needs and expectations, and to take advantage of new technological developments."
The Chairman's action, and the extensive work of the Public Safety Bureau leading up to this order, are commendable.  This all began with a well-considered set of proposals by the Commission early last year, along with an invitation to public safety, industry, and other stakeholders to develop alternative proposals.  We at APCO are very proud that we answered this call, with the Roadmap we developed with our partners at NENA and the four largest wireless carriers that, as the Chairman eloquently described, is "a novel approach that has the potential to close the readiness gap through use of known locations of indoor wireless nodes" and "will ultimately result in capabilities that will evolve with the continued change anticipated in the number of ways consumers might call for help in the future."
Central to the Roadmap, and APCO's strong belief that it represents the best and most effective path towards solving the indoor location problem, is its emphasis on achieving a "dispatchable location."  Dispatchable location – defined in the Roadmap to mean the "civic address of the calling party plus additional information such as floor, suite, apartment or similar information that may be needed to adequately identify the location of the calling party" – represents public safety's gold standard of indoor location accuracy and will provide the equivalent of a landline telephone call.
Public safety has waited long enough.  The time for all stakeholders to join APCO and its Roadmap partners to aggressively pursue and implement nothing short of a dispatchable location solution is right now.  It is time to break public safety out of the cycle of substandard proprietary solutions trailing technological advancements enjoyed in the consumer marketplace.  It is time to depart from position estimates that are increasingly successful outdoors but inside buildings can leave responders searching for those who need help.  People in need of emergency assistance, 911 call takers, 911 dispatchers, and first responders need to know the "door to kick down" plain and simple.
Chairman Wheeler is helping to set us on this path.  We will look forward to reviewing his proposals.  Any ideas that would make the Roadmap even more effective, including reaching our gold standard of dispatchable location, will be most welcome.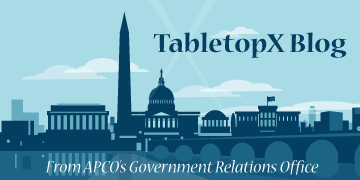 About the TabletopX Blog
A "Tabletop Exercise," often shortened as "TTX," is a discussion-based exercise frequently used by emergency planners. Led by a facilitator using a planned scenario, TTX participants describe the actions they would take, and the processes and procedures they would follow. The facilitator notes the players' contributions and ensures that exercise objectives are met. Following the exercise, the facilitator typically develops an after-action report and conducts a debrief discussion during which players and observers have an opportunity to share their thoughts, observations, and recommendations from the exercise without assigning fault or blame.
Many of the attributes of a TTX are the same we seek to promote in the discussion generated from our blog posts. The goal is to capitalize on the shared experiences and expertise of all the participants to identify best practices, as well as areas for improvement, and thus achieve as successful a response to an emergency as possible.
TabletopX blog posts are written by APCO's Government Relations team and special guests.