By Mark Reddish
On December 3-4, APCO held an Emerging Technology Forum (ETF) in Boston, MA.  We were honored to have several officials join us, including FCC Commissioner Jessica Rosenworcel, FirstNet Board Member Kevin McGinnis, and representatives from Boston police, fire, and EMS.  And, it being an APCO event, the audience was full of public safety professionals.  With so much expertise in one room, it was inevitable that the ETF would generate a high caliber discussion.  We sought to parlay this into a brainstorming session on creating effective apps for public safety.
On the morning of the second day, we held a couple of sessions focused on mobile apps.  The first was a demo of FireStop, an app developed by Princeton students through an entrepreneurship accelerator.  The founder and CEO, Charlie Jacobson, has been a volunteer firefighter since he was sixteen.  FireStop provides information for firefighters and incident commanders that makes fire ground operations safer and more efficient.  This team's enthusiasm was infectious, and it was a tough act to follow.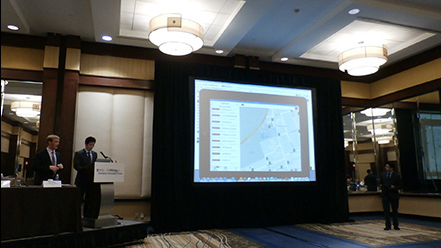 Following the FireStop demo and an overview of AppComm, Chris Osgood and Nigel Jacobs from the Boston Mayor's Office of New Urban Mechanics presented Citizens Connect, an app that helps citizens report problems to city officials.  When residents submit a report (e.g. pothole, graffiti, broken window), they receive a tracking number allowing them to track service and receive an alert when the problem is solved.  While keeping the city in shape impacts public safety, the real takeaway for our audience was the process behind Citizens Connect.  The Urban Mechanics' model for community-oriented innovation, and the app it produced, can be replicated across the country. 
As we transitioned to the brainstorming session, Don Denning, Boston's Public Safety CIO, tied it all together.  FireStop and Citizens Connect exemplify a new age of faster, affordable innovation that can and will eventually flow into the public safety community.  Life-changing apps can come from new sources that have yet to be fully tapped.  Our brainstorming session was geared toward illustrating the potential for public safety professionals and app developers to work together to create innovative solutions.  And that's exactly what we saw.
Don Denning used this graphic (borrowed from Chris Osgood and Nigel Jacobs) to explain the brainstorming session's concept to the audience.  This "innovation wheel" diagrams the process the Boston Urban Mechanics use to deliver better services to their citizens, and it also represents the development phases for apps like FireStop that target unique user needs.
For the brainstorming session, public safety experts would explain the challenges they face – identify problems – to tech savvy developers who might be able to create an app that would help.  Mr. Denning asked everyone to suspend their worries, legal apprehension, and technical doubt.  Liberated from these constraints, we stepped onto the top of the wheel and began to identify problems.
Our first prompt for the audience was "Reducing non-emergency calls to 9-1-1."  The audience ran with it and came up with several ideas, the first of which was reframing the prompt as "Reducing the burden on 9-1-1."  Here are a few of the ideas generated by the discussion:
An app called

CT Police Phones

provides non-emergency numbers based on a user's GPS location.  It was developed by a dispatcher who had first-hand experience with the burden unnecessary calls place on PSAPs.  By expanding the app's service across jurisdictions and operating platforms, maybe fewer people would place non-emergency calls to 9-1-1.
The public needs education on when it's appropriate to call 9-1-1.  Maybe an education-focused app could provide a decision tree to guide potential callers.
An educational app could also provide 9-1-1 practice scenarios.  For children, this would be a way to teach them about how to call 9-1-1 and describe an emergency.  There are already educational apps for public safety responders, and a similar app for telecommunicators could present training simulations.
An app similar to public alerting systems could reduce duplicative 9-1-1 calls by showing the public what PSAPs know to help callers determine whether they have information worth sharing.
These are just a few of the interesting concepts that our public safety and technology experts bounced back and forth during the session.  We barely had time to delve into our second topic, "Crowdsourced response," and didn't even make it to our third.
Based on the productivity of this discussion, which occurred live with little prior preparation or notice, it's clear that APCO members and the public safety community at large are eager to innovate.  And developers are increasingly interested in catering to this crowd.  In the past year, we've seen mobile app hackathons for public safety, more tech companies at APCO events, and continued user registrations and app submissions on AppComm
If you're interested in public safety apps, consider attending APCO's next Emerging Technology Forum in Orlando, February 26-27.  We plan to replicate this brainstorming session, albeit with different topics.  You can also register on AppComm and submit ideas privately or post them in the open Group Talk forum.  That wheel of innovation keeps turning.  I can't wait to see what it spins out.